Fabrication, sheet and tubular metal is a specialty at Watson Engineering Inc. Watson is capable of meeting customer needs and exceeding expectations in several other areas, including quick-turn prototypes to low-volume pilot builds.
Fabrication experts at Watson can take your CAD design and turn it into a high-quality prototype in a matter of days. As a result, Watson Engineering, Inc. is a sheet and tubular metal service provider with the total package! Watson offers complete metal fabrication capabilities with production and finishing capacities. Manufacturing ranging from large to small custom fabricated parts. Fabricators can assist you in design, prototype to production of any steel part. Finally Watson's full array of services only a click away!
Watson Engineering, Inc. uses advanced technology and the latest machinery and equipment processes with ISO certification standards. Some of the services performed include bending, laser cutting, shearing, punching, rolling, welding, forming, as well as other specialty processes including finishing and powder coating.
Metal Fabrication capabilities:
Custom tubular fabrications (exhaust, catalyst, and emissions)
Sheet metal  (brackets, clamps, heat shields, etc.)
Roll forming
Attribute check gauges
Watson offers clients designing and drawing services for metal parts along with our metal fab services. Check out the Request for Quote page. You can create any standard shaped bracket or part for custom metal fabrication.
If you have a complex metal part or are an OEM with a large annual requirement, you can submit a digital file for quote request (Click Here) and receive a custom quote back typically within 24 (business) hours.

Metal Fabrication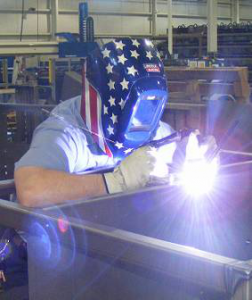 As a customer of Watson, you will enjoy concise reporting, job and quote management. Reports also include process and customer service updates that will keep you informed about your order. On reorders, your parts are maintained in our databases so that you can easily find, review and order them right from your personal user account. Watson Engineering, Inc. makes it easy for both engineers and buyers.
Watson Engineering, Inc.'s products are made right here in the USA – it is our commitment and our mission!
Watson is proud of the fact that all metal fabrication services completed in-house at the Michigan or South Carolina, USA facility.
Take a project from start to finish in one location
Supports the USA Manufacturing base, no work is outsourced to overseas vendors
Produces the highest quality custom fabricated parts available on the market