Equipped with (8) high power laser cutting machines Watson Engineering Inc. is capable to meet all prototype and production needs. Also with years of experience and state of the art technology, experts burn any shape into thin or thick plate steel and aluminum for use in a multitude of applications.
Furthermore, Watson technicians are leaders in providing metal fabrication solutions for industrial machines, heavy equipment, and any other industry requiring high quality, robust components, and assemblies.
Watson Engineering, Inc. offers a full spectrum of CO2 laser cutting machines capable of cutting prototype and production parts including many additional benefits as well. First of all, Watson utilizes only state-of-the-art laser cutting technology of the highest quality in the industry. While any shape cut from the thinnest of sheet stock up to plate steel and aluminum for a multitude of applications with stock measuring 3/4″ (20mm) thick. Because most often laser cut parts require no tooling charges it saves on cost for the customer. Additionally, high power lasers offer rapid turn-around time for Watson customers. Also, laser cutting services complemented by machining, press brake, stamping/forming, and welding departments. Finally, Watson's high power laser cutting capabilities offer a low-cost alternative to stamping.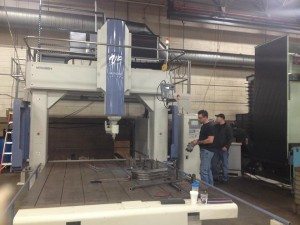 The new Mitsubishi Laser 3020D at Watson Engineering provides additional high-performance multi-axis lasers for maximum productivity. Therefore, Watson is thrilled to add this to the equipment list to deliver the cleanest cuts with the highest level of reliability, precision, and overall performance.
Watson Engineering's new 5-axis CO2 laser! The high power laser cutting machine heads have optimizable configuration settings. Whether cutting solid materials or simply using multiple cutting nozzle combinations on thick or other delicate materials.
Watson provides a faster and more accurate trim to 3-dimensional components!
Efficient / lower cost system to compliment stamped and formed product!
Laser cutting has numerous advantages over mechanical cutting. Laser cutting is less labor intensive, in fact, it is also much more cost effective. The precision of the cut is much better because the laser does not wear during cutting and there's less potential for the material being cut to warp or become contaminated. Lasers may also cut through more kinds of materials than mechanical cutters and also have controlling software to be sure accuracy.
Output power alone does not define cutting performance or the edge quality of a cut. It takes superior "cutting power" to achieve high-performance results. High power laser cutting services at Watson Engineering optimize the process by creating the perfect blend of output power with the Mitsubishi 5-axis laser cutting beam quality, stability and power control.  Results are visible through superior edge quality, lower thermal effects, precision cutting ability, and greater overall processing power.
Committed to safety – Mitsubishi lasers designed with a thorough consideration of safety. Watson Employees are happy to work with the laser cutting machines. Due to the fact, the high power laser cutting machines offer a variety of unique safety features.
---
CO2 High Power Laser Cutting Specifications
Mitsubishi laser CO2 lasers ranging from 2 kW (5-axis) up to 4.5 kw (3-axis)
3-axis laser cutting from the thinnest of sheet stock up to 3/4″ (20mm) thick steel
64-bit NC controls offering full network capabilities (Windows XP) with 10GB hard drive
Automated material handling systems allow for 24/7 "lights-out" unattended processing
Material handling systems capable of storing 66,000 lbs of material up to 60″ x120″ in size
5-axis laser cutting allows for rapid turn-around of 3-dimensional components
---
---
High Power Laser Cutting Equipment List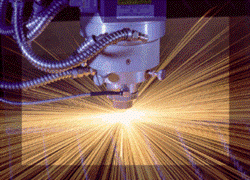 (4)     Mitsubishi  3 axis laser 4000 watts with 5′ x 10′ automatic pallet changer tables with automatic 12 tower material handling system, laser, chiller, and parts handler
(1)     Mitsubishi 2000 watt VZ,  5-axis laser with 5′ x 10′ tables
(1)     Mitsubishi 5-axis laser 2000 watt with 4′ x 8′ tables
(1)     Mitsubishi  Laser ML3015 LV Plus – 2 Resonator 4000 kilowatt Max Material 5′ x 10′ 25.4mm Mild Steel
(1)     Mitsubishi  Laser 3015LVP Plus II-45CRF, 60″ x 120″ table size, 4500-watt resonator
---
Short Lead Time, Fast Turnaround – Advanced automation allows Watson Engineering to run lights out 24/7. As a result, volume production components are fabricated quickly with minimal lead times. Closing rapid production with on-time deliveries is critical to lean manufacturing.
Watson is proud of the high ratings its' customers award in consistently and reliably meeting delivery dates. Also, highly advanced automation allowed by combining Watson's Laser components with automation software provides the lowest part costs with the highest throughput. Lean Manufacturing strategic analysis eliminates unnecessary steps in the workflow process, thus improving material utilization and cost reduction for direct labor from production.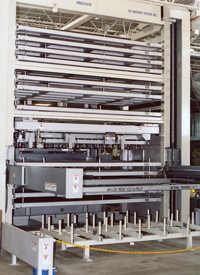 Automation To Simplify Metal Fabrication Equipment Process
Remove non-value-added processes
Less material handling, better accuracy, and reliability
Rapidly respond to real-time production changes
Automation To Win In Competitive Metal Fab. Markets
Win work from less efficient competition
Expand into new markets
Adjust quickly and easily to changing market conditions