Tube Bending is one of Watson Engineering, Inc.'s metal fabricating specialties. In addition, Watson has 35+ years of experience tube bending for low volume, small diameter pipe and tube fabrication. Therefore equipped with a large variety of tube bending machines, Watson can create a solution to even the most complex problems. 

State of the art equipment is available for multiple bends by utilizing a mandrel bender. While typical production sizes are in 1/4″ (6 mm) to 3.0″ (76.2 mm) outside diameter. Tube bending is also available in round, square and rectangular shapes for prototype and production. In addition, small jobs and one-time orders are gladly accepted.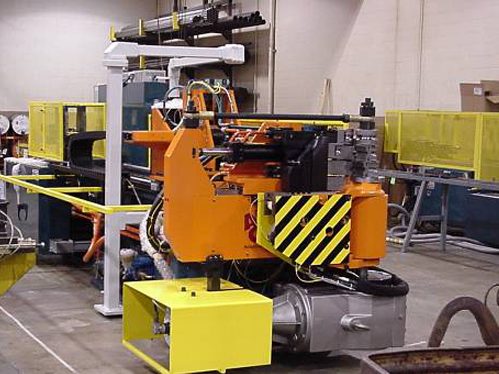 When speed and precision count, customers turn to Watson. The company takes pride in offering competitive pricing and fast turnaround. As a result, experienced staff provides rapid prototypes and high-quality production parts for industries of all types. Rapid prototyping enables Watson to bring your product to market quickly and efficiently. While decreasing product development time, simultaneously providing a manufacturing method and functional performance feedback. Watson has always had a "CAN DO" philosophy and can offer solutions for all of your tube bending requirements.
Watson's expertise lies in the construction, heavy equipment, automotive, motorcycle, and transport industries. So, Watson focuses on fabricating complete tube assemblies to match customer's drawings and specifications. As a result, Watson performs a broad range of operations including; end forming, welding, brazing, swaging, flaring, assembly, and finishing.
---
Tube Bending Capabilities:
CNC Tube Bending
Manual Tube Bending
Short Run Production
End Forming
Multiple Tool Stack
Multiple Bends
Round, Square & Rectangular Tubing
Large Radius Bends
1/4″ OD to 3″ OD
1D – bends to large radius
Pines / Eaton Leonard Machines
---
Tube Bending Equipment
(1)     AMCS EB76 ## CNC Tube Bending Machine with shift head
(1)     Eaton Leonard VB076 #3 CNC Tube Bending Machine
(4)     SMS Model #2 mechanical tube bending machine w/ mandrel adaptation
(1)     Eaton Leonard VB 80HP CNC Tube Bender
---
Tube Processing Equipment
(1)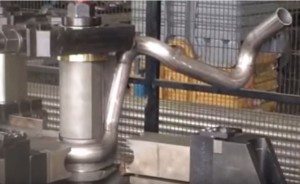 Conrac Leonard model #3 CP-VD tube master tube flare machine
(1)     Conrac Leonard Model #1 1/2 CP-VD tube master tube flare machine
(2)     Eagle model CEF tube end forming machine
(1)     Eagle Model EF2000 tube end forming machine
(3)     Eagle I/O pipe size machine
(1)     Eagle I/O tube end forming machine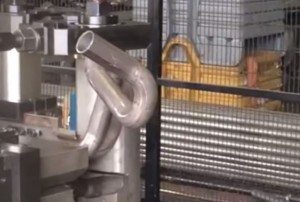 (1)     Eagle TC-80 tube trimmer and cut off machine
(1)     Metals washer/degreaser machine
(1)     Almco SBB-12 Energy Efficient Round Bowl Vibratory Finishing Machine
Since Tube and pipe bending are simply umbrella terms for a metal forming process. They are terms used to describe how to permanently form metal pipes and tubing. One has to differentiate between form-bound and free form-bending procedures, as well as between heat supported and cold forming procedures.
---
---

Form bound bending methods like "press bending" or "rotary draw bending" are used to form the workpiece into the shape of a die. Straight tube stock can be formed using a bending machine to create a variety of single or multiple bends. Also, used to shape a metal piece into the desired form. This process can be used to create complex shapes out of different types of ductile metal tubing. Therefore, free form-bending procedures, like three-roll-push bending, shape the part kinematic-ally. Thus the bending contour is not dependent on the tool geometry.
Generally, round metal stock in tube bending is typical. However, Watson has the capability for square and rectangular tubes and pipes. Other factors involved include wall thickness, tooling, and lubricants. Also, the needs of the pipe and tube bender like job specifications, parts function, and the tools required to best shape the material. e.g. (tube, pipe, wires)
Please contact our sales estimators for more information.