CNC Turret Punching Services

Turret Punching services offered by Watson Engineering, Inc. enable the ability to increase product line to include perforated assemblies and high volume sheet metal fabrications. Watson's TruPunch 5000 is a cost effective method for cutting sheet metal in prototype, low to high volume production runs. Metal Punching creates multiple shaped holes successively punching a series of basic shapes. The basic shapes can be circles, squares, rectangles. The punches are selected from a rail under CNC control. The turret punch has punching, tapping, and wheel forming capabilities. All operations are scheduled electronically and prioritized.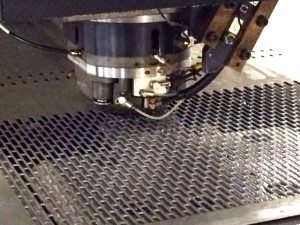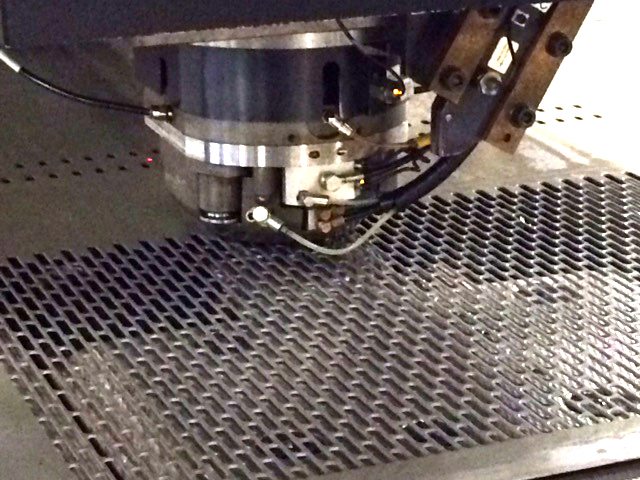 Watson also employs cellular manufacturing techniques. The metal punching equipment is set up as an individual cell; Material is loaded into an automated system unique to t CNC turret punch, processed (punched) and unloaded back onto a pallet and transferred via forklift to the next operation. The automation utilized in this cell make lights out operation possible which in turn helps reduce cost and maximize use of capacity. Another benefit of using the turret punching process is that edges are typically excellent as a result of the shearing action of the turret.
[ Check out our Turret Punching Live – Click here! ]
---
Features of the Turret Punch:
Sheet Master: Automated loading and unloading
Grip Master: Removal of sheet skeletons
Sort Master pallet: Part pick & sort blanks
Sheet capacity of 3048mm by 1524mm
Technical capabilities:
Material thickness: 1mm up to 6mm
Accuracy: Punching accuracy of 0.02mm
Materials: CR4 (Mild Steel) / Zintec / Galvanized Steel / Aluminum / Stainless Steel / Copper / Brass / Pre-coated steel (Plastisol)
Features: Embossing / Ribbing / Part No. Stamping / Forming / Countersinks / Thread forming
Punching acceleration rate up to 1200 hits/min.
---
CNC turret punching service can produce 2D shapes including cutouts.

Example sheet metal punched applications include:
• Enclosures
• Metal Brackets
• Robot Parts
• Footings
• Steps
• Front Panels
• Sheet Metal Boxes
• Motorcycle Parts
• Auto Parts
• Agricultural Parts
• Mechanisms
• Chassis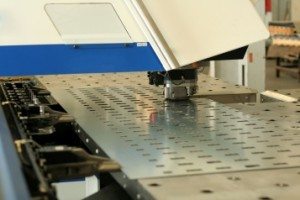 Normally all the tooling needed are stock items, but special tooling may be required for inside angles less than 90 deg and unusual shapes.
CNC turret punching service is commonly applied to:
• Aluminum
• Stainless Steel
• Steel
• Brass
---
Turret Punch Services
Punching is the most cost efficient process of making holes in strip or sheet metal for average to high fabrication
It can create multiple shaped holes
Punches and dies fabricated from conventional tool steel or carbides
Creates a burnished region roll-over, and die break on sidewall of the resulting hole
Photo is an example of a metal punched part >>
---
Turret Punch Equipment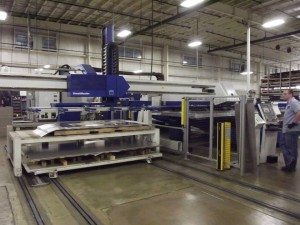 (1)     Trumpf TC – 5000 Turret Punch Max tonnage 24 Ton's Max Material 5×10 6mm mild steel
The TruPunch 5000 is the market leader in productivity, process reliability, and flexibility. Individual automation solutions guarantee diverse applications and enable optimal throughput, especially in multi-shift operation.
Unbeatable productivity
Reliable production
Versatile forming
Optimal part quality
Individual automation
Cutting, shaping, creating beadings, nibbling, thread forming, marking, deburring and embossing are just some of the possible applications for the innovative punching machines made by the TRUMPF, Turret Punch 5000.
---
Turret Punching Services – Parts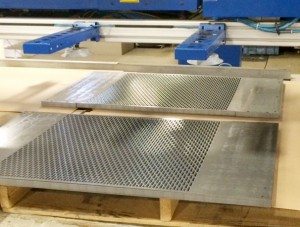 Watson Engineering, Inc. has state-of-the-art sheet metal turret technologies to provide customers with reduced manufacturing costs through versatility, a reduction in sheet metal material, consumption and a substantial decrease in total production time.
Very high part precision by sound machine design and stable C-frame.
Watson's punch offers punching, forming, tapping, and wheel forming capacity in an integrated machine tool delivering optimum quality & extra speed in production.
Thanks to retractable clamps and skeleton-free processing, the sheet utilization is increased, and material costs are reduced
Optimum energy consumption through On-Demand Drive
A second pressure circuit ensures excellent energy efficiency of all hydraulic punch drives
Punching with a stroke rate of up to 1600 strokes/min or marking with up to 3000 strokes/min thanks to On-Demand Drive
Maximum productivity when tapping and in the processing of complex contours due to increased rotational speed
Drives without clearance allow maximum acceleration and positioning accuracy
Optimized productivity and process reliability thanks to smart functions
Intelligent automation solutions such as ToolMaster Linear for fast tool changes
---
Contact our sales estimators for more information.