Mustang Racing Experts!
Watson Engineering, Inc. specializes in metal fabrication, race car body modification, chassis, roll cage prototype to production, installation and full race vehicle builds. With years of experience building drag cars and road race vehicles, Watson has you covered.  Watson Engineering / Racing is known for having 'The first World's Fastest S550, running with IRS.

Full race car builds prototype development services, custom metal fabrication, prototype and production of race and performance parts. Specialize in all aspects of late model Mustang race parts to complete race car builds.
In 2013, Watson Racing became an official affiliate of Watson Engineering and lifted the veil of the race shop doors, in Southeast Michigan, to the world. A full-service operation, offering a line of authentically fabricated race parts manufactured at Watson Engineering.  Offering decades of technical racing knowledge race car builds, fabrication skill, dyno tuning, and track support, all backed by numerous race awards and records. If you need assistance with a race vehicle and want top-of-the-line drag or road race car experts, call the professionals at Watson Racing!
Watson Engineering Inc.is proud to be an integral part of the 2015 Mustang S550, Cobra Jet, and, Mustang Boss 302S Ford Performance race car programs. Working in close collaboration with the Ford Performance Racing Engineers to build and supply many parts for late model Cobra Jet and Mustang racing car, prototype and testing.
Watson Racing offers its' brand of late model Mustang race products, as well as, Ford Performance Racing Parts & Edelbrock E-force superchargers online at shop.watsonracing.com.
Watson specializes in performance parts and Ford turn-key race car and service parts for the S550, FR500C, FR500S, Boss 302 S/R and Cobra Jets. Whether you need parts for your weekend race car, performance street car or service parts for a stock race car, Watson Racing has you covered.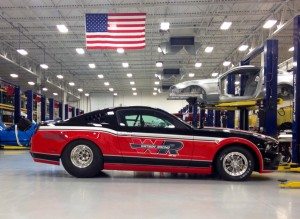 Watson Racing's race shop and track support teams offer decades of technical race knowledge and fabrication skill. Specifically, experts with the Ford Cobra Jet drag car and Mustang Boss 302 R/S race car. Watson also specializes in other performance vehicles.
For many years, the Watson's played a significant part in shaping Detroit's race history from behind the scenes. Watson is proud to offer its' products, services, and expertise to the public. For the top of the line drag or road race car experts if you need some assistance with your race vehicle, call today!  To ensure that cars are running of-the-line,  a Chassis Dynamometer was installed in a specific dyno room with precise airflow and technical experts to run professional dyno tuning services.
---
RACING SERVICES
Dyno Tuning for hot rods, street, drag/road race cars

EFI and carburetor tuning
Club dyno days
Horsepower/torque measurements
All-day rentals
2,000 Horsepower, 200 MPH capable
Call for information or to make an appointment (734)759.0555
Complete Builds
Body Modifications / Weight Reduction
Chassis Modification
Suspension / Exhaust
Installation of Aftermarket Parts / Assembly
Prototype Fabrication / Development
Track Support
---
Shop Watson Racing website for all your performance Mustang part needs.
4-pt and 6pt Bolt in Roll Bars
Roll Cages
Carpet Kits / Seat Delete
Optic Armor Windows
Motor Mounts, Trans Mount
Intercooler Tanks
Subframe Assembly, K-Member
Battery and Alternator Relocation Kits
Close-out panels, consoles, shifter plate
Front and Rear Bumper, Parachute Mount
Tiger Racing, Carbon Fiber/Fiberglass Hoods