CNC Press Brake Operation
CNC Press Brake used to accurately form parts using a wide variety of material types, thickness, and radii.  In addition, punch and die are used in combination to bend sheet metal from acute to obtuse angles with the highest of tolerances.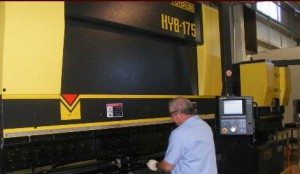 Watson Engineering, Inc. utilizes brake presses from 6 to 250 tons to manufacture metal components to customers' specifications. Also, Watson's team is capable of press braking parts with a part size of up to a 10′ in width while holding the tightest of tolerances.
While Watson has over 20 press forming machines for forming and bending. Due to the range in size from 50 tons to 250 tons. Skilled operators also specialize in prototype and low to medium volume production press brake formed parts. Finally, CNC press brake forming is a low-cost alternative to expensively tooled components.
CNC Press Brake Specifications
State of the art Toyokoki CNC press brakes ranging from 6 to 250 tons
Electric and hybrid-hydraulic Rams using CNC encoders to deliver accuracy and repeatability (within .0002")
Automatic thickness detection sensing – to ensure repeatability
6-axis servo driven back gauging for extreme accuracy
Auto Crowning feature to provide precise bend angles across entire width of components
Expansive tooling library on hand to eliminate need for expensive tooling cost
European Style press brake tooling allowing for offset, step, and complex configurations
---
Watson Engineering, Inc. can bend/form a variety of metals and alloys, with press brake or CNC press brake.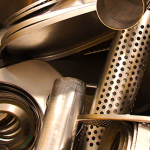 Bending Materials Include:
Aluminum
Cold Rolled Steel
Galvanized Steel
Steel (All Alloys)
Non-ferrous Metals
CNC Press Brake / Press Forming Equipment
Toyoki Press Brake HYB2503 – 10′ bed
Toyokoki Press Brake APB-062
(2)     Toyokoki Press Brake HYB1753- 10′ bed
35 Ton CNC Toyoki electric brake press
(2)     60 Ton CNC Toyoki electric brake press
200 Ton Accurpress mechanical press brake with 8-foot bed
(2)     150 ton Enerpac hydraulic press
60 Ton Accurpress hydromechanical press brake Model 7-60-6 with 6-foot bed
300 ton Standard A post hydraulic press
300 ton Model AP300 Four Column Press
500 ton Model AP500 Four Column Press
600 ton Pacific hydraulic press
WDM Model B-26-36 Sheet metal bending machine
Westbrook WDM-K -6 (5.5) 4 initial pinch hydraulic plate bending roll machine rated capacity 5/16″ mild steel to 11″ diameter x 4 wide, 5 HP motor
 Arbor press max tonnage 50 tons
Columbia PR 751 bench style two stage slide a mark air press.
HAAS GR-510 Gantry Router
Contact our sales estimators for more information.