Watson Engineering, Inc. History

Since 1981, Watson Engineering, Inc. has experienced consistent annual growth in Southeast Michigan and South Carolina. The increase in business has allowed for growth in sales, capabilities, and facilities too.  Watson has multiple locations in the Metropolitan Detroit area, as well as, in upstate South Carolina. The new locations Downriver, Michigan and in the Carolinas has allowed Watson to continue to meet increased market demand. In keeping with its philosophy, Watson Engineering has evolved into a multi-location, full-service metal parts manufacturer. Also, Watson Engineering has continued to expand capabilities in Metal Machining areas of fabrication, laser cutting, turret punching, tube bending robotic welding, stamping, CNC machining,  powder coating, tooling, fixture, build and vehicle services.
Today, with more than 400 employees and 380,000 sq. ft. of industrial space, between the Detroit and Atlanta Area. Watson Engineering, Inc. has the latest technological processes in place to meet customer needs for tomorrow. As a result, the industrial space is available to commit to an emergency project anywhere in the USA. Also, personnel has been trained to support such projects.
Watson has invested heavily in metal machining equipment and state of the art technologies. Which is necessary to provide customers with the current processes and timely solutions. Watson built its business on personal service, quick turnarounds, a commitment to quality and being cost competitive. As a result, Watson Engineering is proud to have a reputation within the industry that is second to none. And most important of all, with a flexibility that enables Watson to adhere to its' mission and to satisfy the demands of any customer who enters through the front doors.

Watson Engineering – Mission Statement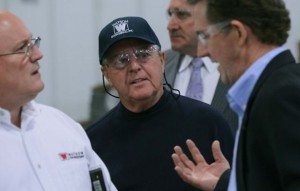 "Customers come to Watson Engineering with problems they need help solving.  Through the efficient utilization of engineering and production resources, we help make those problems go away.
Our commitment is to satisfy every customer need by exceeding expectations with high quality, customer-driven products provided in a responsive, timely manner."
Chuck Watson, President
Watson Engineering, Inc.