Feature Service Expert Robotic Welding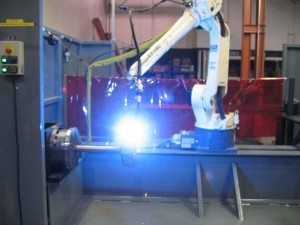 Robotic Welding allows for consistently efficient, high volume production of your welded components.  First of all, Talented welders can perform welding on aluminum, steel, stainless and titanium. Secondly, destruction, cut/etch, and penetration measurement testing and microscope ensure your welds are to print specifications.  Furthermore, welding services include manual spot, brazing welds, MIG and TIG. As a result, one of Watson core competencies is welding.
Prototype and production parts manufacturing can include a variety of processes. Including assembly, fabrication, machining, preparation, and finishing. Production services include processes such as welding, laser cutting, bending, punching, soldering, and stamping. While, machining includes the turning, drilling, and milling of material. Preparation involves using a variety of chemicals to clean and surface the metal. Finishing includes processes such as plating, polishing, coloring and powder coating the metal. Watson is precision metal parts manufacturing company. With unique and customized manufacturing processes to assemble individual parts for all customers and industries served. Your 1-stop shop for all your needs, and even all under one roof!
| For projects, Welding is the ideal solution! | |
| --- | --- |
| | |
---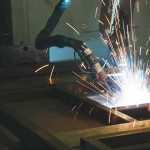 NEED WELDING?  Concerned with accuracy, quality & cost efficiency?
ISO 9001:2008 and ITAR certified.

To learn more –  please fill out an RFQ or Contact form.
---
Robotic Welding Benefits – Watson Engineering, Inc.
Accuracy: CAD / CAM capabilities enable our trained staff to provide extremely accurate robotic welding at tight tolerances.
Greater consistency: long run robotic welding allow for accurately cut and formed parts and fixtures. Watson has provided precise welding for long term parts for 30+ years.
Superior Technology: State of the art technology, robotic welding at Watson Engineering, Inc. therefore, it allows for highly accurate and highly repeatable system, shortening lead times for high volume projects.
Increased rate of production: the high level at which parts are processed by utilizing robotic welding makes it easier to meet ongoing needs. Therefore, you get what you need when you need it.
Welding on multiple axes: welding on up to 5 axes allows for faster delivery and more efficient robotic welding.
Using Welding for virtually any shape: Watson Engineering, Inc. can provide you with robotic welding for everything from flat sheets to cylinders, and almost any shape that can fit over a mandrel.
Tight tolerances: By adjusting the speed and controlling the welding sequence, industrial robots can reduce part distortion considerably.
Expansive welding capabilities: while multiple welding stations suit a wide variety of specifications, Watson Engineering, Inc. can handle even the most challenging robotic welding jobs.
Fast Lead times: robotic welding allows for increased productivity due to advanced equipment as well as the inherent repeatability and efficiency of the robotic welding process.