Metal Fabrication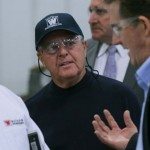 Watson Engineering Inc. is a full-service, one-stop manufacturing shop for sheet and tubular metal services. Watson provides metal fabrication for a single prototype to medium and high volume production parts, all under one roof. Core competencies are in providing solutions to challenging projects for a variety of industries.
Watson specializes in CNC machining, (manual and robotic) welding. Also, mandrel bent tubular products (pipe/tube bends), as well as fixtures, tooling, and brackets. Furthermore, CNC forming, coating/finishing, cutting, punching, assemblies, and lean manufacturing are specialties.
Metal Fabrication, Tube Bending, Robotic Welding, Powder Coating, CNC press brake, laser cutting, turret punch, stamping – Southeast Michigan and Upstate South Carolina – Prototype, Development, and Manufacturing.
Metal Fabrication – Continually Exceeding Expectations after 35+ years!
Chuck Watson founded Watson Engineering over thirty years ago. Watson's corporate mission is still, "Committed to satisfying every customer's needs by exceeding their expectations."
Furthermore, Company growth has allowed Watson to serve customers around the United States. Watson provides a comprehensive array of services with some of the most respected brands in the world. Throughout the years, Watson has opened several additional offices, warehouses and manufacturing facilities to accommodate state-of-the-art equipment and manufacturing.
Watson facilities located in Southeast Michigan's Metropolitan Detroit Area and Upstate South Carolina. Company growth and additional locations have been a direct result of customer-driven needs being satisfied consistently. Additionally, Watson strives for the assurance of quality, value, and technical expertise.
Caterpillar recognized Watson with awards for robotic welding in Michigan and the South Carolina plants.  As a result, consecutive years for the 'Seven Steps of Welding Excellence' (7SWE).
Consequently, Watson has cultivated a reputation in the USA as a competent business, providing timely, quality results with particular attention given toward aggressive value pricing.
Therefore, for over three decades, Watson has grown from a one-person metal fab. Shop to a multi-million dollar company with several locations. Watson is ISO certified; ITAR registered, and a tier one industry supplier.
Most important, Chuck Watson firmly believes "Our future success will come from the ability to create innovative solutions to the problems our customers ask our help to solve."
Metal Fabrication – Watson Racing Mustang Racing Parts

Watson Engineering has released an authentic brand of "Racing" products. The company is proud to have been an integral part of several of the late model Mustang builds. Ford Performance Racing Cobra Jet, Mustang S197, Boss 302S, and the S550 Mustang race car.
Also, Watson continues to specialize in late model Mustang racing parts as well as, complete race car builds. After quietly building race cars for decades, Watson Racing is a full-service operation, offering its line of Mustang drag and road race parts to the world.
As a result, Watson Racing offers over three decades of technical racing knowledge. A sampling of services provided in the shop are; complete race car builds, fabrication, dyno tuning, and track support. Watson's expertise is all backed by numerous race awards and records. For top-of-the-line Mustang drag or road race car parts or builds Watson Racing is your expert, call the professionals today!
Finally, Contact our sales estimators for more information.