Feature Part – Mustang Wheelie Bar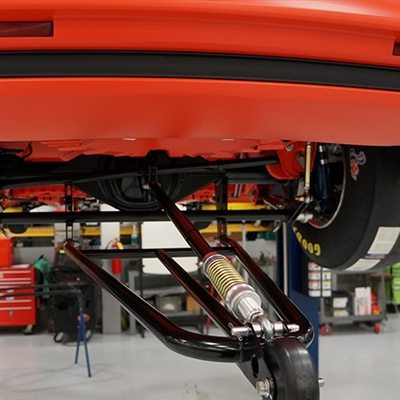 Mustang Wheelie Bar
Pulling the front wheels off the ground at the start is all part of drag racing! Custom Mustang Wheelie bar is available from Watson Racing to keep your car on all four wheels down the track.
Designed and developed alongside Ford Racing for the 2014 Cobra Jet drag race program! For the serious Mustang drag racer, the Watson Racing Mustang wheelie bar is designed to work with 9" rear axles only.
Watson Wheelie Bar is a product of months of extensive testing and dozens upon dozens of passes down the track- no shortcuts taken here.
---
 
MUSTANG WHEELIE BAR
WHEELS UP!!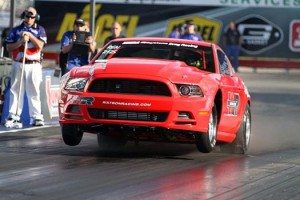 The kit includes brackets that have to be welded to your axle housing, as well as a small sheet metal "notch" that must be welded into the spare tire well, for wheelie bar clearance. Will work with any 2005-2014 Mustang (possibly other years as well) using a 9" rear axle. Constructed of CNC mandrel bent 4130 chromoly tubing, precision TIG welded in fixtures, and powder coated, all right here in Michigan.  Product Code: WR-WHEELIEBAR
Contact Watson Racing to professionally weld the brackets to your axle housing.
---

Watson Engineering has released its own brand of authentic "Watson Racing" products. Watson Racing is proud to be an integral part of the Ford Racing Cobra Jet and Mustang Boss 302S race car programs and specializes in late model Mustang racing parts along with custom race car builds. After quietly building race cars for decades, 2013 proved to be a ground-breaking year as Watson Racing lifted the veil opening its race shop doors to the world. Watson Racing is a full-service operation, offering its own line of authentic fabricated race parts while also being an authorized Ford Racing Performance Parts dealer and Edelbrock E-Force Supercharger distributor. Further, Watson Racing offers decades of technical racing knowledge, complete race car builds, fabrication skill, dyno tuning, and track support, all backed by numerous race awards and records. If you need some assistance with your race vehicle and want top-of-the-line drag race or road race car experts, call the professionals at Watson Racing!