Watson South Carolina Car Event 2017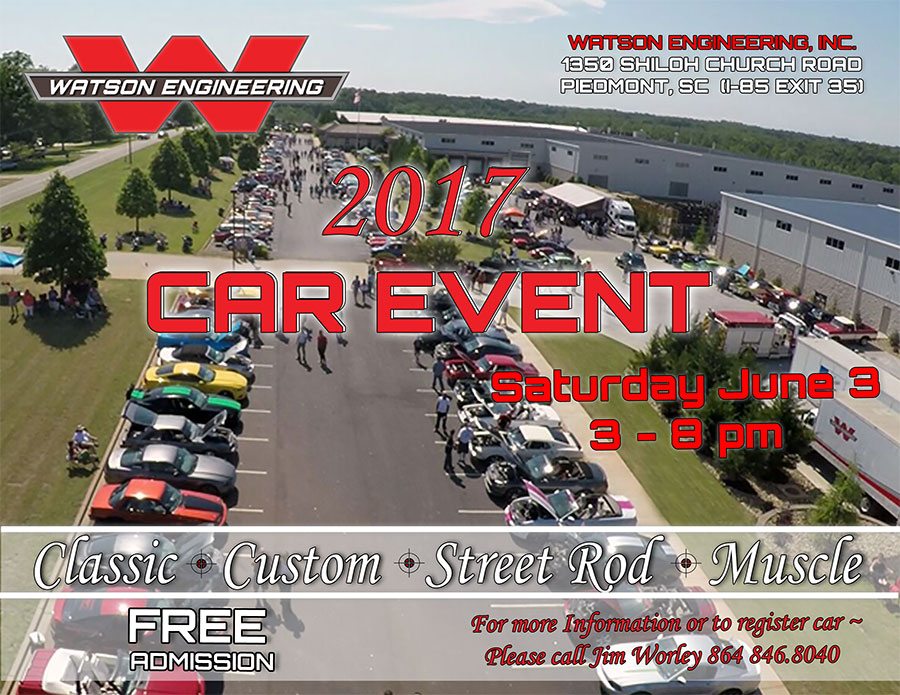 Watson is excited to announce the 6th Annual South Carolina Car Event is set for Sat. June 3, 2017 (3-8 PM). This is a family-friendly free event that is fun for all ages!  With this in mind, the South Carolina Car Event will continue to take place at the Watson Engineering, Inc. location. Specifically, at 1350 Shiloh Church Road in Piedmont, (I-85 exit 35).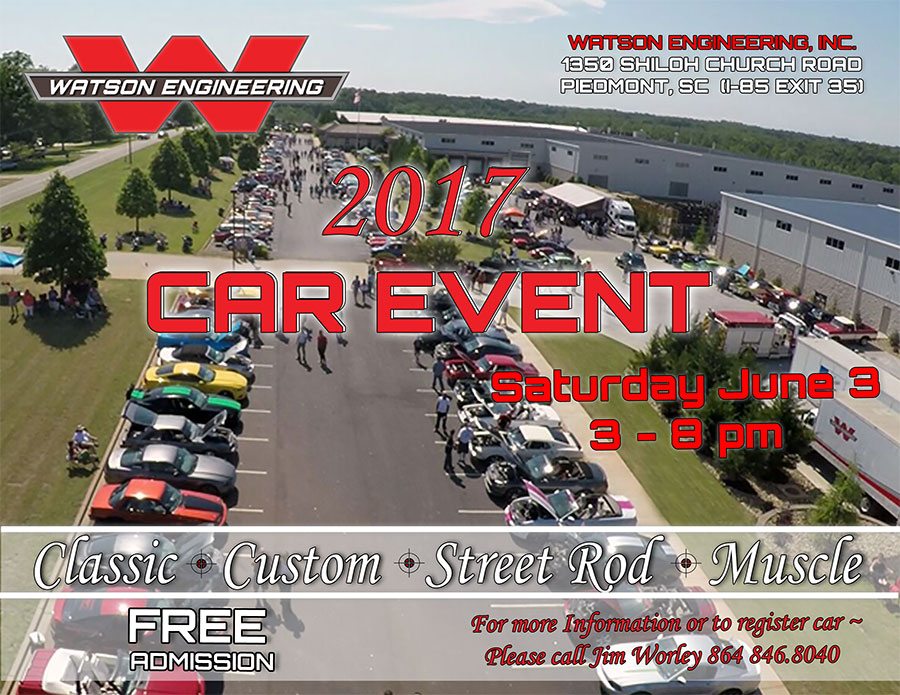 Watson's Staff is Planning a Fun-Filled Day!
Participants are all invited to come out and enjoy a day of hot rods. The event includes food, live entertainment, and many laughs with fellow automotive enthusiasts. Furthermore, Spectator entry is free and open to the public to participate.
Would you like to show off your ride?
Since the Watson Engineering, South Carolina Car Event is open to all automotive makes and models. Street rods to late-model muscle cars and specialty vehicles are all welcome! Please note, we are currently accepting standard and VIP Parking registrations. So, any interested participants for the Watson South Carolina Car Event, please call 864-846-8040 for more information.
---
The 5th Annual ~ Watson, South Carolina Car Event
In Conclusion of 2016, Watson's South Carolina Car Event had a fabulous turnout of 300+ cars / 900+ people. The car event turned out to be one of the largest held as proof when the weather cooperates, it increases event participation. As a result, the event was blessed with fantastic weather and the turnout was exceptional. Likewise, the entire staff worked tirelessly to ensure a successful, safe, and fun event for all. As a result, big kudos to the Watson team assisting in the event.
We appreciate everyone's assistance, car owners, friends, family and all that showed up to enjoy the day. Sincere thanks for your help in making the 2016 a memorable event.
2016 Event Photos  >>
---
South Carolina Car Event Set ~ June 3, 2017 (3 -8 pm)
Local Car Show Links:
South Carolina Car Show Finder | South Carolina Car Shows
Local Car Show Groups: 
Carolina Mustang Club | Carolina Regional Mustang Club |  Central South Carolina Mustang Club | Eastern South Carolina Mustang Club in Florence, Sc | Foothills Mustang Club – Upstate South Carolina | Low Country Mustang Club | South Carolina Car Clubs
* If your group is not listed in the links above, please visit us on social media to let us know they would like to be included in the car club listings. Please contact us and like/follow us on our Facebook or G+ .