Weld Excellence Award – Continuous Improvements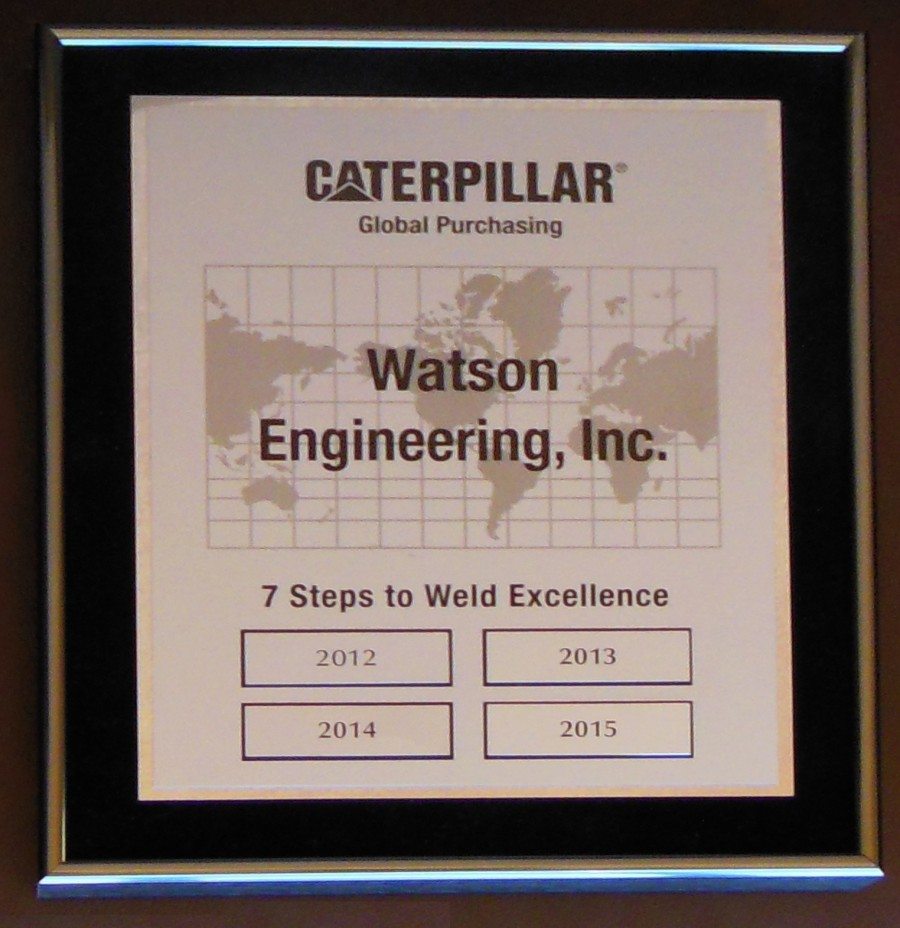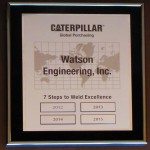 Watson Engineering is pleased to announce that the Taylor facility has successfully received Caterpillars' 7 Steps to Weld Excellence Award (7SWE). Additionally, CAT's 7SWE was achieved by Watson for four consecutive years!  The 7SWE certification is a highly prestigious quality award that is challenging to obtain. Only suppliers that have achieved the highest level of quality with Caterpillar achieve weld excellence.
The Caterpillar weld excellence award takes rigorous training and adherence to the strictest of weld standards.  An essential part of this program is to ensure that all Watson welders become certified through formal training, hands-on activities and passing a final written exam.
Weld Excellence Award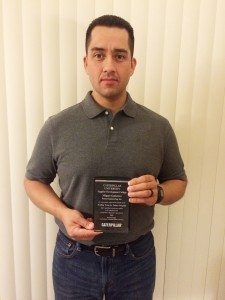 Leading the Weld excellence program is Miguel Gutierrez, Watson's Weld Engineer. Miguel recently became a Certified Welding Inspector (CWI) from American Welding Society (AWS). Achieving the CWI is a lengthy process that requires several months of classes. Also, endless amount of study hours. Finally, passing an exam that historically has a 60% failure rate.  Also, Miguel recently received a certificate from the American Society for Nondestructive Testing (ASNT). He also successfully finished a Level II ACCP Certification and all elements of the 'Welding, Train the Trainer Program' at the Master Training Center.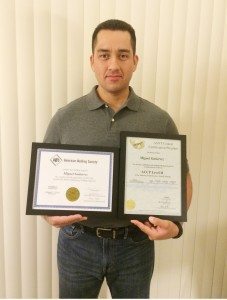 Miguel is now qualified to train new welders to be compliant with weld excellence quality expectations.  "Our instructors were Fred Dawson (senior consultant, Caterpillar University) and Jesse Hunter (Global 7SWE Coordinator) to whom I'm very thankful for their continued support and guidance during the past year," said Miguel.  Not done yet, Miguel intends to pursue other inspection certificates in the future.  He has his site set on achieving the PT (penetration testing) and UT (ultrasonic testing) certifications in the soon.
Watson Engineering would like to congratulate Miguel Gutierrez on his outstanding achievements, personal sacrifices, continued focus, support, and motivation to achieve numerous certifications for leadership/training in welding.
Photos: Miguel Gutierrez and the AWS and ACCP certificates along with the Caterpillar 7SWE award.