Powder Coating Michigan
Watson Engineering, Inc.'s powder coating facilities have fully automated five-stage washers and powder coat systems. While, powder coating allows the ability to specialize in customer color selection. Also, the powder coating application includes high-temperature powders. Powder coating system adds superior corrosion protection, chip resistance, and aesthetic quality.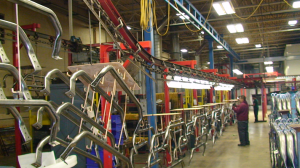 Watson Engineering, Inc. has an automated five-stage iron phosphate parts washer and an ITW Gema powder coat system. Powder coating allows Watson the ability to specialize in customer color selection. Also, using this application allows Watson to include high-temperature powders.
PAINTING SYSTEM
For starters, the two 5 stage powder coat systems include an environmental room, vacuum cleaning system, burn-off oven, and x-458 4″ I-beam conveyor system. Secondly, included are PLC base central electrical control panel, powder application room system, make-up air system. Lastly, equipment includes  Elco Meter, ph meter, Elco cross cut test and ITW Gema automatic paint guns.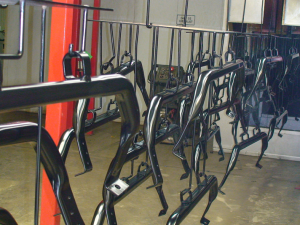 Particularly relevant is that the high-performance powder coating systems have passed (on-going) independent lab tests. Furthermore, it exceeds Ford, General Motors, Caterpillar and other OEM's strict powder coating specifications.
Consequently, the powder coating equipment manufacturer is a pioneer in coating technology and color change solutions. Which allows the ability to offer customers the confidence and expertise that comes with using equipment from the industry's global leader.
Equipment from Gema is durable, flexible and engineered to last, providing increased performance, greater efficiency, and a better return on investment. Gema sets the industry standard for powder coating technology, developing the finest powder coating equipment available.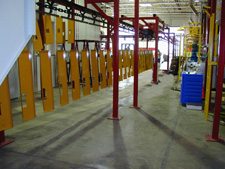 HIGH VOLUME POWDER COATING MICHIGAN
In addition, powder coating quantities are available from one piece prototype to high volume production. Watson Engineering offers two entire Powder Coating systems. First is your Powder coating Michigan source; providing powder coating in Detroit, Flint, Saginaw, Grand Rapids, Ann Arbor, and throughout southeast Michigan. Secondly, powder coat services are available in Upstate South Carolina, serving Piedmont, Greenville, Anderson and throughout the Carolinas.
Furthermore, Watson Powder Coating specializes in items such as:
Bumpers & Grill Guards
Industrial Fabrications
Trade Show Exhibits
Metal Fencing and Railings
Retail Displays & Fixtures
ATV Frames & Parts
Bicycle Frames & Parts
And More!
Whether you spell it powder coating or powder coating, the next time you need quality industrial finishing with attention to detail, contact Watson Engineering! In conclusion, Powder Coating Michigan or South Carolina, Watson has you covered with award-winning quality!